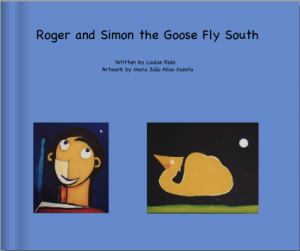 Roger and Simon the Goose Fly South is a sweet little fantasy for the dreamy child in us all.
Roger, a young boy, and his best friend, Simon the goose, fly through the night by the light of the full moon, escaping the cold northern winter en route to the warm southern coast.
Inspired by the beautiful naïve paintings of Portuguese abstract oil painter, Maria João Allen Gamito, Roger and Simon the Goose Fly South is my first children's book. You can preview the entire book and purchase it in soft or hardcover here.
____________________________________________________________
In the late 1990′s I participated in a writing group where I developed the voice of a fictitious character whom I eventually named Tildy Wilson. Once named, Tildy became too real to ignore, her unrepentant zest for life too big to contain in short columns I wrote for writing group, and so she became the protagonist in my two rom-com novels:
Baking at Midnight: The Misadventures of Tildy Wilson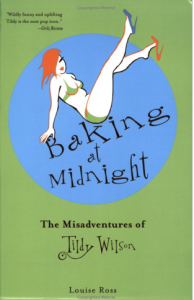 Synopsis:
Tildy Wilson (Australia's Bridget Jones) takes on American culture in this fish-out-of-water, tongue-in-cheek, romantic comedy of errors. Out of work, out of love, and reluctantly facing forty, Matilda (Tildy) living in Mork and Mindy's Boulder, of all places, determines to regain control of her life using astrology, tarot, Oprah, and a personal development coach. She throws herself into a succession of comic misadventures involving flamboyant fashion, bad hair, and very bad boyfriend choices (except for Nikov Niković, the seductive Croatian restaurateur). The eternal optimist, Tildy is further encouraged by her east-coast-transplant best girlfriend, Isa Rubenstein, her Dead Head, tofu-eating neighbor, Sunshine, and Eric, her cross-dressing, artist ex-husband to show up for the next date, employment experiment, and coaching session, hopeful that this time she's on track. In the frantic information and technology-driven world she inhabits, Tildy Wilson is full of humanity, and true to her character, she does fly
Breakfast at Tildy's: The Misadventures Continue
Synopsis:
With the Baking at Midnight year behind her, Tildy Wilson is 40 and flying – all the way back to Australia for Christmas. Barely a month before Tildy's departure best girlfriend, Isa, has her first baby. But there is no escaping the flurry of feelings at losing Isa's undivided attention to motherhood, because three weeks with her family includes extended time with Tildy's adopted Chinese niece, Baby. Now that Tildy is coupled with restaurateur Nikov Niković, the seductive Croatian émigré, she has glimpses into her future and wonders if accepting his proposal and working together is what she really wants. Will marriage and hostessing at Nikov's revamped restaurant in downtown Boulder be adventure enough for Tildy? In Breakfast at Tildy's: The Misadventures Continue, Tildy's personal journey climaxes following the melodramatic death of her mum, Beaty, from an untimely heart attach. Faced with the realization that Beaty's lingering disapproval is keeping her stuck in fear, Tildy puts into practice her new mantra: "Life is all about Yes." With her trademark zest and unrepentant Australian humor, Tildy courageously embarks on her biggest adventure to date: traversing her inner landscape while traveling in China with her father, Frank.
____________________________________________________________
In order to build an online community of Tildy fans, I began writing a blog in the voice on my protagonist. From 1995 through 1997, Tildy spun best girlfriend wisdom on topics such as dating, fashion, fashion and dating and how always to be Safe & Sexy.  You can read the posts at TildyBlog.com
_____________________________________________________________
In February 2009, I entered Breakfast at Tildy's: The Misadventures Continue in the Amazon Breakthrough Novel Award competition. ABNA accepts 10,000 entries from 24 countries and Breakfast at Tildy's made it through the first round where the judges base their decision on the following:
"Our editors will read the Pitch for each Valid Entry. Our editors will select the top 1,000 Entries from each category to advance to the second round by rating each Pitch on the following three criteria: originality of idea, overall strength of the Pitch, and the quality of writing."
This is the Pitch I submitted with my entry. Additionally, all first round entries received 2 reviews based on consideration of an excerpt from the novel. Here are my 2 ABNA Expert Reviews.
And below is Part 1 of Breakfast at Tildy's: The Misadventures Continue.